This a BiteSizedTruth response series with BiteBytes answering multiple questions we receive consistently such as:



What happens when we die?
Do people go straight to Heaven or Hell when they die?
Do people 'sleep' after death until the Resurrection?
What 'proof' or evidence is there of life after death?
27 Just as people are destined to die once, and after that to face judgment,
28 so Christ was sacrificed once to take away the sins of many; and he will appear a second time, not to bear sin, but to bring salvation to those who are waiting for him. Hebrews 9:27-28 NIV


This scripture is just one of many clear repudiations of any reincarnation teachings.

I discovered personally years ago that reincarnation is in fact a teaching promulgated through false religions by the inspiration of demonic spirits 1 Timothy 4:1.
I'll share more on this supernatural experience  later but first recognize that any teaching of reincarnation is designed and has the effect of blurring the sense of urgent accountability which the Creator has placed into the human conscience.
The appointment to die physically and answer to God is applied to both Christians and Non-Christians:  consider:
6Therefore we are always confident and know that as long as we are at home in the body we are away from the Lord.7For we live by faith, not by sight.
8 We are confident, I say, and would prefer to be away from the body and at home with the Lord.
9 So we make it our goal to please him, whether we are at home in the body or away from it.
10 For we must all appear before the judgment seat of Christ, so that each of us may receive what is due us for the things done while in the body, whether good or bad. 


Romans 8:14-16
14 Even Gentiles, who do not have God's written law, show that they know his law when they instinctively obey it, even without having heard
15 They demonstrate that God's law is written in their hearts, for their own conscience and thoughts either accuse them or tell them they are doing
16 And this is the message I proclaim—that the day is coming when God, through Christ Jesus, will judge everyone's secret life.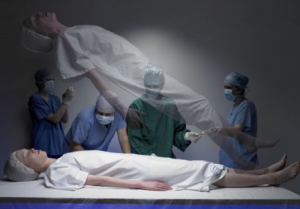 Stay tuned to BST for more on this series.